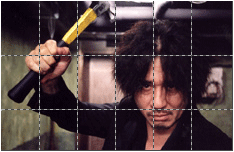 Se avete l'esigenza di stampare un'unica immagine su piu' pagine, ecco qualche link utile:
Block Posters: questo sito permette di caricare un'immagine JPG grande fino ad 1 Mb, scegliere il formato della carta ed orientamento (A4 o US Letter, verticale o orizzontale) ed indicare il numero di fogli su cui suddividere la stampa. Dopo l'elaborazione, si otterra' un PDF con l'immagine divisa, fetta dopo fetta, nelle pagine richieste.
The Rasterbator: meccanismo di funzionamento molto simile al primo, con la differenza che l'immagine generata e' una rasterizzazione dell'immagine di partenza. In pratica l'immagine originale viene trasformata in tanti piccoli punti, che visti da vicino non hanno senso, ma quando si osservano da lontano in una visione d'insieme, ritrovano il loro significato originario. Ideale quindi per stampare grandi poster (anche qualche metro di lato) da appendere su grandi muri.
PRTLGPCT.EXE: Print a Large Bitmap on Multiple Pages: se siete dei programmatori, questo articolo dalla KB della Microsoft mostra come realizzare con poche righe di codice un programma in Visual Basic 6 (ma facilmente riadattabile anche al .NET) per stampare un'immagine suddivisa in piu' pagine.
Ecco lo snippet del codice, basta creare un form, aggiungerci 3 bottoni, un PictureBox, un controllo Common Dialog e copiare quanto segue nel code-behind.
Option Explicit
Const constMaxValue = 32767
Dim lngPrinterWidth As Long, lngPrinterHeight As Long
Dim lngPictureWidth As Long, lngPictureHeight As Long
Dim lngXCoor As Long, lngYCoor As Long
Dim sngWidthRatio As Single, sngHeightRatio As Single
Dim intPageWidth As Integer, intPageHeight As Integer
Dim bytWidthCount As Byte, bytHeightCount As Byte
Private Sub Form_Load()
Command1.Caption = "Load Picture"
Command2.Caption = "Print Single Page"
Command3.Caption = "Print Multiple Pages"
End Sub
Private Sub Command1_Click()
'Opens the common dialog box so you can select a picture file
'to load into the Picture object.
Dim picFile As Picture
CommonDialog1.Filter = "JPEG files|*.jpg|BMP files|*.bmp"
CommonDialog1.ShowOpen
If CommonDialog1.filename <> "" Then
Set picFile = LoadPicture(CommonDialog1.filename)
Set Picture1.Picture = picFile
Form1.Height = Picture1.Height + 1700
Form1.Width = Picture1.Width + 1400
Picture1.Left = 700
Picture1.Top = 700
End If
End Sub
Private Sub Command2_Click()
'Print the picture on a single sheet. Picture object automatically
'adjusts picture size to fit into a single sheet.
Printer.PaintPicture Picture1.Picture, lngXCoor, lngYCoor
Printer.EndDoc
MsgBox "Done Sending Info to Printer"
End Sub
Private Sub Command3_Click()
'Print the picture on multiple sheets.
'Load the dimensions of the image and printer into memory
lngPictureWidth = Picture1.Picture.Width
lngPictureHeight = Picture1.Picture.Height
lngPrinterWidth = Printer.Width
lngPrinterHeight = Printer.Height
'Calculate the ratios
sngWidthRatio = lngPictureWidth / lngPrinterWidth
sngHeightRatio = lngPictureHeight / lngPrinterHeight
'Calculate how many pages are required to print the picture
intPageWidth = constMaxValue – Int(constMaxValue – sngWidthRatio)
intPageHeight = constMaxValue – Int(constMaxValue – _
sngHeightRatio)
For bytWidthCount = 1 To intPageWidth
'Calculate the x-offset
lngXCoor = -lngPrinterWidth * (bytWidthCount – 1)
For bytHeightCount = 1 To intPageHeight
'Calculate the y-offset
lngYCoor = -lngPrinterHeight * (bytHeightCount – 1)
'Use the Paint Picture method to print the picture
Printer.PaintPicture Picture1.Picture, _
lngXCoor, _
lngYCoor, _
lngPictureWidth, _
lngPictureHeight
'start a new page
Printer.NewPage
Next bytHeightCount
Next bytWidthCount
Printer.EndDoc
MsgBox "Done Sending Info to Printer"
End Sub