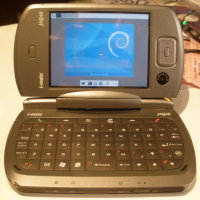 What follows is my personal experince in installing GNU/Linux on a HTC Universal pocketpc. I used Titchy Linux, a Debian Lenny based distribution with special drivers/config for HTC Universal. But the heart is Debian, and full support to Debian repois is grated.
Actually the only not working hardware is:
-camera.
-wifi sometimes works, sometimes doesn't, the driver is unstable.
First of all, I splitted a 1Gb SD memory stick into two partitions: the first with 32Mb of size and FAT32 filesystem, the second an ext2 filesystem in all the remaining space. In this way, I can port all my config in another HTC (launcher and Linux installation) and show the magic of Linux to all of my Universal-friends. If you need some shared data on memory card, between Windows Mobile and Linux, simply make the FAT32 partition bigger and use it for storing these data.
I followed the steps in Titchy wiki for Universal installation and I copied haret.exe, zImage and startup.txt in the FAT32 memory stick partition. After 30 minutes, thanks to Titchy image, my HTC Universal booted with Linux. Included in the image a very nice sms /calling graphical interface, access to it pressing the green phone key. That's all, have fun!
For alternative install (no xfce file manager, encripted home partition and lot of tricks) there is another great resource, with lot of useful post-configurations. Be sure to read the Titchy wiki for UMTS and Bluetooth access to the Internet.

RAM CONSIDERATION: The HTC Universal has only 64 Mb of ram, and the base system, with
textual console, uses 12 Mb of it. XFCE installed by Titchy is nice, but the ram
consumption arrive to 40 Mb and the system responsivity is very bad.
With IceVM, instead, the totat used ram is 24 Mb and the system
responsivity is still good.
And now, general tip's tricks.
Continue reading

"Howto install Debian GNU/Linux on HTC Universal"