After a 3 years long tradition of in-person team summits, to retrospect, brainstorm and plan the work of the team, while having fun together, we had to switch to an virtual team summit format. Here the key learnings worthwhile sharing.
One format doesn't fit all
Core insight: the experience of a team, may not perfectly apply to another one.
Every team is different. In order to have a successful virtual team summit, it's important to consider some team characteristics. Like number of people, familiarity of the team members, team culture, etc.
For example, if a team culture doesn't support a collaborative environment and open discussions within team members, chances are very low a brainstorming activity can be successful. In person, even less online. The same goes for a team with several new members. The less people are familiar with each other, the less they'll speak in team-wide discussion tables. In this case, smaller group discussions, 1:1, and a final moment of sharing, may work better.
As a reference, my summit targeted a team of 12 people, with a minority of new team members; mostly on the same time zone (within the +/- 2 hours range); already familiar with feedback oriented and collaborative activities (like retrospectives, brainstorming, etc.), but in an in-person setup only.
And this is the agenda we used:
Day 1, morning

90 mins: icebreaker + welcome + activity 1
30 mins: (social) break
60 mins: activity 2

Day 2, morning

90 mins: icebreaker + activity 3
30 mins: (social) break
60 mins: team fun activity
Why this format? Let's explore the main reasons:
The importance of energy level
Core insight: several mornings are better than one of two full days.
It could be tempting to run an entire day of virtual team summit, or even more days. From my experience, it works well with in-person summits, but it's not really the best for a virtual summit. When you work from home, life happens, and you need to leave space for it. Cook the meal, take care of family members, bring out pets, etc.
In addition, online collaboration drains more energy than in-person collaboration, so people need more time to recharge.
My suggestion is to spread the team virtual summit across different mornings, or to the closest possible scenario allowed by time zones. Morning is when, generally, the energy level is higher, and attendees can start the summit with a fresh mind, so more focused.
Alternatively, use the mornings for collaborative activities, and reserve the afternoons for reflective and individual activities. So people have more flexibility to arrange their time and work in the way they prefer.
Activity blocks duration
Core insights: start with a 90 mins block, then 30 mins break, and a final 60 mins block.
After observations, my favorite format is to have two main "working blocks": 90 mins, followed by another 60 mins, with a break of 30 mins in between.
It's hard to remain plugged and productive for 90 mins, twice. Plus, a 3.5 hours (90+30+90) block is hard to accommodate in a "morning", when the attendees cover slightly different time zones.
Blocks of 30 or 45 minutes are generally not optimal for virtual summits, for what was said previously (context switch, ease of getting lost, etc), unless there is a very specific and short activity to run.
Of course, the time slots allocation really depends on the kind of activities to run:
90 mins seems OK for time boxing a brainstorming-like session: there is time to explain the challenge, diverge, discuss, converge. If the challenge is very complex, it's possible to explain, diverge and discuss in the first 90 mins, take a breath and detach during the break, and then use the following 60 mins to converge and close the activity.
If there are lot of presentations, it's better to have 25 mins slots (20 mins for the presenter, as per TED talks rule, 5/10 mins for Q&A) then 10 mins to break, where attendees have time to absorb what was said, before jumping to the next presentation. Avoid very long (+45 mins) presentations, or a 60/90 mins continuous alternation of different speakers: it's the best way to kill audience attention, and attendees will quickly turn to do something else.
Hackathon-like activities would require the full morning / day slot, with teams auto-organizing their time.
A Design Sprint could even be run in a day, with Map, Sketch and Decide phases during the morning, and Prototype and Test phases for the afternoon, or in the following morning.
Social breaks
Core insights: 30 mins to detach completely, potentially alone.
Breaks should be 30 mins. It's enough to move away from the personal working area, have a bio break, detach a little bit. And also prepare something to eat and/or drink, as we don't have the luxury of catering service.
Create a different Meet/Zoom/Teams appointment, called "[Optional] Social break" for people that wanted to chat and gossip during the break. And make it very clear that it's optional to attend, that setting separated chat groups is OK too, or even spending the whole time "away from the desk, and alone". This is a 100% attendees truly reserved time: they should have freedom in choosing what to do with it.
Team Fun activity
Core insights: have fun, together. Contextualized to the attendees group.
Having a dedicated moment for fun is an important part of every summit. It bonds people together, allows for serendipity, helps to recharge batteries, etc. It's even more necessary now, where we haven't seen each other in person since a long time.
In addition to some short ice-breakers (5-10 mins max) at the beginning of the other slots, I dedicated an entire hour for a specific fun activity. At the end of the second morning, as a way to celebrate together the achievements of the summit, and to relax the pressure. There are millions of fun activities to run, and it's important to select something appropriate for the audience.
In a just formed team, having the fun activity at the beginning of the summit could be a better choice. It could help to build the initial "social infrastructure" that will favor collaboration and interactions for the rest of the event. For a longer virtual team summit (3-4 mornings) it could be run in between of the days, to take a break.
Set summit goals in advance…
Core insight: well defined deliverables, in advance.
I'm a supporter of setting and communicating in advance what should be the desired outcome of a team summit. A tangible set of deliverables, everyone can measure the progress toward. Even more for a virtual team summit.
While in person it's easier to be agile, and pivot and replan part of the activities in a short time, this is generally more difficult for virtual summits. In person, it's possible to quickly identify where the team consensus is going, if some attendees got lost, the overall group emotional status, thanks to many non-verbal communication elements. Also "implicit peer pressure" exercises a strong influence (if I perceive that several attendees think this is an important topic to discuss, probably it should be important also for me). In a team virtual summit, because of the lack of many non verbal elements, the same is not always true.
Creating and sharing the agenda in advance, avoids this problem. Through iterations, 1:1s and feedback, it is generally possible to reach a wider team consensus about the goals to achieve, and how, before the summit.
A well known agenda also fosters engagement. It helps attendees to approach the different summit segments with the right expectation, a more appropriate mindset and, generally, come more prepared.
… and don't overcommit
Core insight: less is more, because of focus and energy.
It's easy to stuff a team summit with many desired goals, we all know. The real difficult, and valuable task, is to trim them down to very few deliverables, and run specific activities to reach them.
Context switch puts an important burden while working from home. At the end, we're physically alone. So, it's easier to lose track of where "the rest of the team is". Or get distracted by "the rest of life" as soon as there is the feeling of not being able to keep up with the speed of the team.
In addition, for a moderator it's really hard to check if attendees are "present and aware", or if something else is competing for their attention. Again, a video/audio only interface cuts out a lot of non-verbal communication elements.
Few deliverables help to keep the attendees focused, provide a sense of fulfillment once they're reached, feeding engagement (we're all happy to be an active part of something that works).
The right tool for the right session
Core insights: carefully match an activity format with the most appropriate tool to run it.
A Google Doc or a Google Sheet can be the jack-of-all-trades for plenty of collaborative activity formats. But they may not always be the best tools at your disposal. Maslow said: "[…] it is tempting, if the only tool you have is a hammer, to treat everything as if it were a nail." UX matters, and I personally consider it valuable to spend (a reasonable amount of) time to find, or even create, the right tool for the right activity format. Attendees will benefit from this attention. The more they are, the bigger the benefits.
For example, here my screen setup while running a brainstorming activity: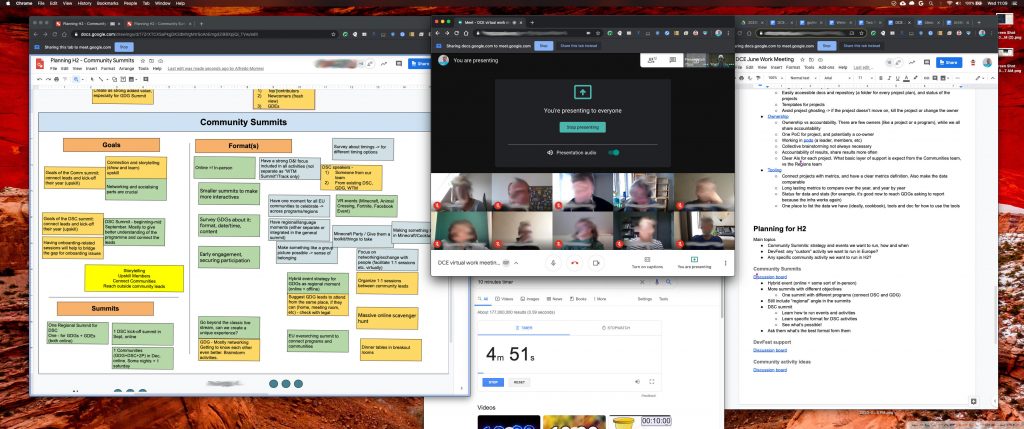 From left to right: the "virtual whiteboard where we collected our ideas" (a Google Drawing doc, resembling a whiteboard with sticky notes and voting dots); the Meet window, so I always remained in visual contact with the summit attendees; a countdown I used to time bound activities: the doc where the note taker took notes about the discussion. And yes, I really love my ultrawide monitor :)
Ask for feedback, and iterate
Core insights: we're all learners, and we need quality feedback.
Surveying attendees about the "Overall summit satisfaction, on a scale from 1 to 5" is the bare minimum. Asking them why, what was the best part of the summit, the worst, and what they missed (a start/stop/keep doing/best approach), provides good insights. To really learn and improve, ask detailed feedback for each activity.
Include the feedback activity in the summit agenda. Reserve 5 mins, before closing the summit, for the survey. It will be an awkward moment of silence, but the completion rate will skyrocket (up to 90%, even more). Share the feedback with everyone. Attendees will appreciate the point of view from others, and they can always learn something. If it's not possible, share the core insights obtained from the feedback. And use them to adjust the next virtual team summit activity.