If you know me, you know I love to start with why. In addition, as Priya Parker wrote in her book "The art of Gathering", "by having a clearly identified purpose for the event, participants will have more chances to actually connect, and not be disappointed". So, once our European DevRel team decided this year to shift from several regional GDG Leads summit, to a European-wide summit for 500+ attendees, we set down together, to define the main purpose of the summit, the North Start that would have influenced all the other event-related decisions. How we made it is the topic of this post.
(This post is part of a series about the European GDG Leads Summit organization. Partially to give to GDG leads some behind-the-scenes of the event, partially to share with other community managers lessons learned, partially for personal fun)
Get inspiration from the past
To warm-up our brains and create a common ground for follow-up discussion among the 12+ people in the team, we started with a retrospective exercise. We looked at the regional summits we run in the last two years, wearing two hats: one that considered attendees feelings and emotions (community is all about emotions), their comments and their feedback; another that considered our goals and impressions as organizers. We used the Start / Stop / Continue model, adding a fourth "Best" element to it. And this was the result.

An incredibly dense wall of insights! We briefly discussed the points and, unsurprisingly, the ones that emerged more often were about knowledge and experience sharing, the sense of community, networking activities, training on community-related topics, feedback and discussions, intimate conversations, fun together. We also smiled a lot at your past, because was full of great and heartwarming memories.
We added into the mix the results of the interviews we did during Google I/O to several community leads there, asking them the most valuable activity they wanted to have during a GDG Leads Summit.
Identify the core summit purpose
With all these information in mind, we started to think, individually, about a desired purpose for the summit. With these key characteristics:
• Represents the sweet spot between what attendees want and enjoy, and the event organizers goals, with a slight preference for the attendees side.
• Tangible and inspirational at the same time. Able to leave a feeling in between "we made it" and "there is still road ahead". The "we made it" to positively justify the time spent, the "there is still road ahead" so attendees feel it's already time for another summit, to continue the journey together.
• Offers a high level narrative that could be addressed during different events, using different angles and themes, but still part of the same, consistent, story.
And we put ideas together, obtaining another "surface" full of great insights: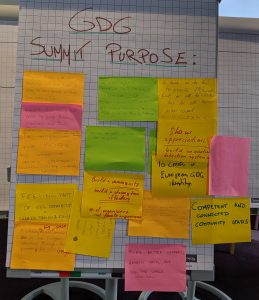 That flip chart fed an intense follow-up discussion that, after setting priorities, voting the different proposals and adding other elements into play, left us in agreement about the following GDG Summit purpose:
Empower GDG Leads connecting them and with them at a personal level, fostering a European identity and celebrating their successes, while providing tools to growth in their community manager role.
Skills and tooling, identity, connections, appreciation. Four areas we'll work on to draft the agenda!
Stay tuned for the next post on the European GDG Leads Summit!