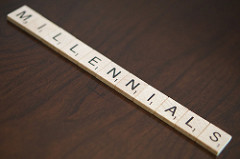 I often hear about these terms, mostly in demographic discussion around marketing segments. So I'm writing down some notes gathered around to clarity the (fragmented) boundaries of each group.
Millennials: born from 1980-1995, nowadays 21 to 36 years old. They prefer access (Zipcar, Airbnb) over ownership, have childhood experiences with technology and they saw a rapid increase in personal Internet usage.
Digital Natives/Generation Z: born from 1996-2008, nowadays 8 to 20 years old. They raised in a digital, media-saturated world, have attention spans of 8 seconds, spend 10+ hours of time online daily, majority on their smartphones. They prefer multi-tasking and like being on 5+ screens at once.
Mobile Natives: born from 2009-Present, nowadays up to 9 years old. 7% of babies under the age of one have used a smartphone. Nearly ⅓ of babies under the age of 2 can navigate mobile phone without help. By age 4 over 35% of toddlers use a smartphone for an hour a day.
Nice to know that, even if one age-generation separates me and my son, it seems there is a 4 consumer-generations gap between each other. Oh yes, I'm a Generation Y, not even a Millenials ;)