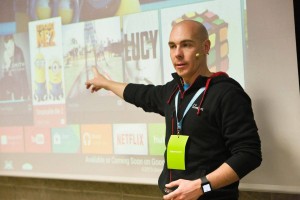 When I do public speaking, my talk doesn't finish after the last question from the audience, it finishes once I've analysed the feedback attendees have provided. Feedback, for me, are a cornerstone of a talk life cycle (together with prepare, rehearsal and present). Let's see different techniques I use to gather them, achieving more than 60% response rate.
Decide for meaningful and quick to fill feedback
My goal while asking for feedback is to know what I can improve for the next time: what is done is done, unfortunately. People are lazy by nature, so it's important to find the right balance between time requested to provide feedback and detail of the information obtained. The less time, the better. Just an empty field with a question like "What do think about the talk" won't work, it's too generic and people will need time to think about it and what they input could be useless for me. On the other side, only a simple scale to grade the talk is too simple. Here the questions I generally ask:
"How useful was the talk for you?", a mandatory scale from 1 to 5 where 1 is "Time wasted" and 5 is "Very useful"
"What you liked the most?", a multiline free text form
"One think to improve for the next time", a multiline free text form
Make easy to provide feedback
Once I have the questions, next step is to ask them to the attendees in the quickest and painless possible way. Sites with a login is a no-go. Anonymous Google Form is perfect: credentials are not required, light to load, fits on mobile screens, focused on the task of input info, pre-fillable data via a customised URL. Try by yourself :)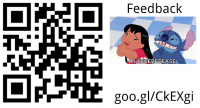 Then the audience need the form link, so a add a slide like that at the end of my deck: the biggest QR-Code possible with form URL, plus the short address to the same form in case QR-Code doesn't work (app not installed / low light / too small for people from the last rows etc). To be more creative, I can also use an Eddystore-URL beacon to transmit the URL, but software support to read it is, nowadays, far more complex than a QR-Code scanner. But it's cool :)
Everything is in place, finally. But if you ask to give you feedback, only few attendees will do. Why? Because people are lazy, as said previously :)
Add some fun to the feedback experience
There are two main techniques I tested over time. First one is about explicitly ask participants to give you feedback, and declare the next 90 seconds will be dedicated to that, before start taking questions. Drawback is… the 90 seconds of silent after the request! People will be busy filling the questions, but 90 seconds of silent are tough to manage and can ruin the atmosphere of the talk.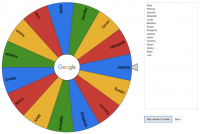 Another option comes from my colleague Martin Omander, that created this "Wheel of Names" to distribute one gadget to the lucky winner of the raffle. I anticipate to the attendees that the ones that fill the feedback form will participated to a raffle for a small gadget. They only need to add a name or nickname at the end of the form to be eligible. Nicknames are important so people can stay anonymous in their feedback.
After the before mentioned 90 seconds, I open the form responses, copy the column with people's nicknames in the space right to the wheel and spin it. Drawback is I need to have a gadget to offer, but sometimes can even be a symbolic object I donate to the winner, without a real value, just for fun. And it works, I can assure.