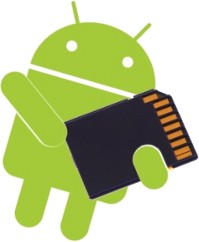 Buonaparte degli utilizzatori Android si saranno trovati a dover fronteggiare il problema della mancanza di spazio per installare nuove applicazioni. In passato a risolvere il prolema ci ha pensato App2SD, una piccola perla sviluppata dalla comunita' hacker che permette di muovere qualunque programma nella memoria SD. Unico problema, funziona solo sui rooted device.
Dalla versione 2.2 (SDK 8), Android permette nativamente di spostare le applicazioni nella SD, ma solo se queste sono progettate per farlo. In soldoni, basta mettere questa riga nell'AndroidManifest.xml, nel tag <manifest>:
android:installLocation="auto" oppure android:installLocation="preferExternal"
Facile no? Peccato che moltissime applicazioni ancora non usino questa piccola accortezza. Per questo ho deciso di mandare una mail a tutti gli sviluppatori dei programmi che uso e che non la supportano ancora, chiedendogli di farlo. Se anche tu hai mancanza di spazio nel tuo device, guarda la mail dello sviluppatore nel market e inviagli il messaggio qui sotto ;)
——————————–
Subject: (app name) support for storage memory installation
Dear developer,
I'm an happy user of your application. It will be great if you can add support for moving the application on storage memory, because it's a common issue of Android devices to run out of app memory in a short time (like mine).
It' easy, you must only add this line inside the AndroidManifest.xml
android:installLocation="auto"
You can find more info here:
http://developer.android.com/guide/appendix/install-location.html
Thank you for your great work!
——————————–
Vediamo che effetto avra' questa mail: quando io ricevo email di questo genere, cerco sempre di accontentare chi mi scrive.
Update: ho mandato 22 email ai diversi sviluppatori: nel giro di qualche giorno: 5 mi hanno detto che avrebbero aggiunto queste feature nella prossima release, 2 che non potevano aggiungerla per caratteristiche particolari dell'app (supporto ai widget), 2 email non sono arrivate per errori nell'indirizzo. Sto aspettando le altre risposte, ma gia' cosi' direi che il risultato e' ottimo!