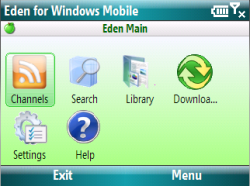 Chi programma per Windows Mobile con il .NET Compact Framework sa che c'e' davvero poco spazio per l'interfaccia. Bottoni a cui non si possono agganciare immagini, disegno di elementi di liste che non puo' essere personalizzato, completa mancanza di supporto alla trasparenza delle immagini: insomma, la vita non è facile se occorre realizzare qualcosa che vada oltre il semplice dataentry o consultazione di elenchi e viste.
Fortunatamente a Redmond se ne sono accorti, e se ancora non c'e' nulla di ufficiale integrato nei controlli del .NET Compact Framework, ci sono in giro per la rete tante risorse utili che possono aiutare ad aggiungere quel tocco di bellezza in piu' ai nostri programmi.
Graphics and Drawing in the .NET Compact Framework: una lista di tutorial che trattano lo zoom di immagini, la loro rotazione, il disegnarle con un colore di trasparenza, realizzare un gradient, gestire l'immagine di background di un form, ruotare un testo e diversi altri utili trucchetti.
How to Create a Microsoft .NET Compact Framework-based Image Button: questo tutorial spiega come affrontare la piu' classica delle esigenze: realizzare un bottone con un'immagine.

Make A Mobile Imaging App With The .NET Compact Framework 2.0: un articolo interessante che spiega come gestire un'immagine di backgroud e disegnare sopra ad essa testo trasparente, linee ed altri elementi. Viene anche mostrato l'uso di un nuovo controllo del .NET Compact Framework 2.0, il SelectPictureDialog, l'acquisizione di immagini della camera integrata nel dispositivo, il double buffering e altre funzionalita'.
Implementing Transparency, Gradients, and 3-D Glass Effects on .NET Compact Framework Controls: il titolo e' gia' di suo abbastanza esaustivo, comunque in questo interessante tutorial viene descritto come realizzare un controllo che visualizza delle icone e una lente con effetto 3D che indica quella attualmente selezionata, con un simpatico effetto gradient. Davvero notevole.