Se sviluppate per Android, vi sara' capitato di dover  scaricare gli SDK delle varie versione del sistema operativo, procedura completamente automatizzata grazie all'Android SDK and AVD Manager. Potrebbe pero' capitare di voler scaricare manualmente questi aggiornamenti, magari per velocizzare l'installazione su diversi computer, oppure per qualche altro motivo.
Per prima cosa, occorre scaricare gli Android DSK dal sito ufficiale. Scompattare il file .zip o .tgz in una cartella a propria scelta e lanciare da questa il file tools\android.bat (per Windows) o tools/android (per GNU/Linux). Dovrebbe aprirsi l'Android SDK and AVD Manager, un programma come quello in figura: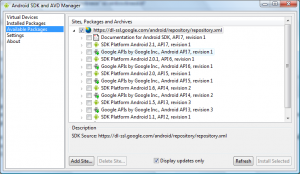 Se dal menu' a sinistra si sceglie la voce Available Packages, si notera' che nella parte a destra, in alto, viene proposto l'indirizzo di un file xml, e precisamente:
https://dl-ssl.google.com/android/repository/repository.xml
Questo file, se scaricato e aperto, contiene tutti i pacchetti disponibili nel repository di Google, pacchetti che vengono filtrati in base al proprio sistema operativo e in base a cosa si e' gia' installato per proporre i nuovi aggiornamenti dell'AVD Manager.
Esaminando un parte del file, troviamo qualcosa tipo:


 
 79874833
 c7f384a8ea5451061c5630b100a9cff994b6bcfb
 android-2.1_r01-linux.zip


 79733223
 9f7f5f8de40e514d522bda4a94087ecae48b8283
 android-2.1_r01-macosx.zip

 
 81068762
 b04453e6f0f0d0df16740e360114c559092dfaf4
 android-2.1_r01-windows.zip

Che non e' altro che la definizione per i pacchetti che fanno capo all'SDK per il nuovo Android 2.1 per GNU/Linux, MacOSX e Windows rispettivamente. Il file che ci interessa scaricare e' contenuto nella chiave sdk:url, e per il sistema operativo del pinguino e' android-2.1_r01-linux.zip. Attaccando questo nome al percorso che contiene file repository.xml, si ottiene l'url completa del pacchetto da scaricare, e precisamente
https://dl-ssl.google.com/android/repository/android-2.1_r01-linux.zip
Bingo! Estraendo questo pacchetto nella cartella platforms dell'Android SDK, avremo le nuove immagini disponibili all'uso. Basta rilanciare l'Android SDK and AVD Manager per trovare installate le nuove immagini. Se proprio poi si vuole fare le cose a modino, occorre anche rinominare la cartella estratta dall'archivio. Sotto GNU/Linux, ad esempio, ho l'SDK per la versione 1.6 di Android che viene estratto in android-1.6_r02-linux, dovro' quindi rinominare la cartella in android-1.6 per fare in modo che future patch ed aggiornamenti della piattaforma vengano scompattati dall'installer nella posizione corretta.
Se si vogliono invece scaricare ed installare manualmente gli add-on come le Google API, la cartella dove scompattare l'archivio compresso dovra' essere add-ons e non platforms e non occorrera' cambiargli nome una volta scompattata. Ovviamente, se l'operazione e' andata a buon fine, l'AVD Manager segnalera' il nuovo componente tra quelli gia' installati.
La cartella dove viene estratta la documentazione, infine, va rinominata in docs e spostata allo stesso livello delle cartelle add-ons e platforms.