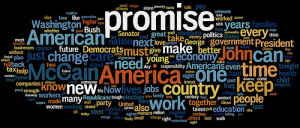 Se Nixon ha vinto le elezioni grazie all'uso della televisione, Obama e' riuscito a raccogliere molti consensi grazi all'uso della Rete, come mai prima nessuno aveva saputo fare. Di seguito una raccolta dei miglior post che ho trovato in giro che parlaro e approfondiscono l'argomento da tanti punti di vista.
Obama's Social Media Advantage: confronto tra la presenza di Obama e quella di McCain su Twitter, MySpace e i post nella blogosfera a loro riferiti.
Obama's Social Media Advantage, Act II: Considerazioni sul sito change.gov, secondo atto della strategia di comunicazione sui social media del neo-presidente americano.
How Obama Reinvented Campaign Finance: In che quantita' hanno contribuito le donazioni individuali sotto i 200$ nelle campagne dei vari candidati alle presidenziali americane? Dati riguardanti il 2000, 2004 e 2008.
Come Fare Una Campagna Di Comunicazione Web 2.0: Elezioni USA 2008, Il Brand Obama: proporsi non solo come uomo, ma come brand, al pari di Nike, Starbuks e Intel.
Quando le conversazioni dal basso, da sole, non bastano: un'analisi sui messaggi inviati alla community creatasi attorno al sito del candidato e la strategia di gestione delle Actions.
La campagna elettorale di Obama in poche parole. Analisi del programma del candidato democratico con Wordle: analisi grafica e semantica delle parole usate da Obama durante i suoi discorsi e nel suo programma di governo. Promise.
Battle Plans. How Obama won: un'analisi molto approfondita della campagna di Obama, dalla genesi agli ultime battute.
Il programma del nuovo presidente degli Stati Uniti in ambito tecnologico: "Dobbiamo connettere i cittadini gli uni agli altri per coinvolgerli
maggiormente e direttamente nella soluzione dei problemi che abbiamo di
fronte". Una frase iniziale che ha del rivoluzionario, almeno per come siamo abiutuati noi qui, dove per molti la partecipazione al Consiglio Comunale sembra una perdita di tempo.
Is Obama Ready To Be A Two-Way President?: "This is an era in which information is democratized". Considerazioni sugli strumenti a disposizione del presidente per continuare nella politica della partecipazione intrapresa nella sua campagna.
Chissa quanto una campagna di questo genere potrebbe dare i suoi frutti anche in Italia. Suppongo ci sarebbe prima da cambiare le teste dei nostri politici, avere degli elettori sensibili a questo tipo di approccio e magari dotarli  delle strutture necessarie all'accesso alla Rete, abbattendo il digital-divide. In pratica, forse quando saro' nonno.