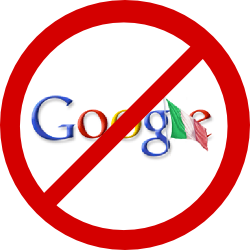 Mi e' capitato di notare che gli ultimi contest organizzati da Google includono l'Italia tra i paesi banditi dalla competizione.
Nexus S Challenge Official Rules
ELIGIBILITY: To be eligible to enter the Contest, you must be: (1) a legal resident of and physically located in either the 50 United States or the District of Columbia, Canada (excluding the province of Quebec) or the United Kingdom;
E vabbe', qui non e' un gran male dato che sono molti i paesi esclusi, ma il concorso e' vecchio ormai.
Nexus S Challenge 2 Official Rules
To be eligible to enter the Contest, you must be: (1) a legal resident of and physically located in Australia, Austria, Belgium, Canada, Croatia, Czech Republic, France, Germany, Greece, Hong Kong, Ireland, Indonesia, Netherlands, Philippines, Russia, Singapore, Spain, South Korea, Switzerland, Taiwan, Thailand, the United Kingdom or the 50 United States and the District of Columbia.
Nuovo giro del precedente concorso, ancora tra gli esclusi, nonostante la lista delle nazioni si sia allargata parecchio!
Google Code Jam 2011
The Contest is void in Quebec, Italy, Saudi Arabia and where prohibited by law.
E gia' qui la cosa si fa interessante: siamo a livello di Quebec e Arabia Saudita. Wow, che emozione!
Poi mi sono ricordato che questo problema ha radici gia' nel lontano 2007,  in occasione del primo Android Developer Challenge
The Android Developer Challenge is open to individuals, teams of individuals, and business entities. While we seek to make the Challenge open worldwide, we cannot open the Challenge to residents of Cuba, Iran, Syria, North Korea, Sudan, and Myanmar (Burma) because of U.S. laws. In addition, the Challenge is not open to residents of Italy or Quebec because of local restrictions.
In quell'occasione la risposta al perche' fosse successa una cosa del genere tento' di darla Fabrizio Giudici. In sostanza, la nostra sempre limpida, chiara e semplice legge obbligava Google a depositare preventivamente da qualche parte 10 milioni di dollari, il premio totale del concorso, in modo tale da poter essere sicuri della sua disponibilita'.
Che sia stata la stessa burocrazia di 4 anni fa ad escluderci anche stavolta?