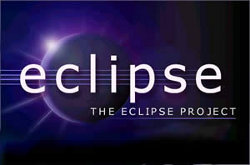 Dopo aver reinstallato il mio pc con un nuovo fiammante Kubuntu Karmic Koala, ho deciso di aggiornare anche Eclipse all'ultima versione disponibile, tanto per sviluppare un po' sotto Android.
Per prima cosa, ho scaricato il tar che mi interessava dal sito ufficiale, senza fare ricorso ai package della distribuzione. Per lo sviluppo con Android, basta anche la Eclipse IDE for Java Developers, uno tra i package piu' piccoli tra quelli disponibili. Ho scompattato il pacchetto sotto /opt/eclipse/, in modo da creare una nuova cartella eclipse a partire da quel percorso.
Primo problema: capita spesso che se si clicca su dei bottoni, non accade nulla, oppure in certe liste, tipo quella dei componenti aggiuntivi, non si vedono gli elementi. Si tratta di un problema con le Gtk, la cui ottima spiegazione e' contenuta in questo post. Sempre dallo stesso post la soluzione, anche se non e' proprio la cosa piu' bella del mondo. Ho creato il file /opt/eclipse/eclipse.sh con dentro questi comandi
export GDK_NATIVE_WINDOWS=true
/opt/eclipse/eclipse/eclipse
Un bel chmod +x /opt/eclipse/eclipse.sh e a questo punto, si puo' creare un launcher nel menu' di KDE che punta a questo file per eseguire Eclipse.
Immancabile supporto per la maggior parte degli sviluppatori e' uno strumento per la gestione del source control, tipo SVN. Al contrario di altri IDE, tipo Netbeans, Eclipse non ha installato di default uno client SVN, ma occorre scaricarlo ed installarlo manualmente. La seguente procedura la potere trovare a questo o questo link.
Help->Install New Software
Choose to work with Galileo – http://download.eclipse.org/releases/galileo
Unfold Collaboration
Choose Subversive SVN Team Provider (Incubation)
I employ you to restart Eclipse and don't use any plugin at this point since they will not work and you will get a message which is similar to this: 0×0040010b: Obtain Project Name' operation finished with error: Selected SVN connector library is not available or cannot be loaded …'. Instead you rather install a connector library.
Help->Install New Software
Add a site
I used: http://www.polarion.org/projects/subversive/download/eclipse/2.0/update-site/ , but you can probably use any other that has SVNKit or JavaHL connector
Unfold Subversive SVN Connectors
Select SVNKit (1.3.0)
Restart Eclipse
Configure SVN Connector by specifying the connector in Window->Preferences->Team->SVN->SVN Connector.
In ultimo la parte per lo sviluppo per Android: basta seguire anche qui l'apposito link messo a disposizione da Google stessa che spiega passo passo cosa installare. Personalmente ho scompattato l'SDK per Android sotto /opt/eclipse/, in modo di avere in un'unico percorso tutto il necessario per sviluppare con questo IDE.
Se per caso, usando l'AVD Manager dentro Eclipse e installando i vari componenti come i Platform SDK delle varie versioni della piattaforma, dovreste imbattervi in un errore che recita pressappoco "Unzip failed: Cannot run program "chmod": java.io.IOException: error=24, Too many open files", la soluzione e' lanciare l'AVD manager fuori da Android ed installare da li i pacchetti aggiuntivi tramite il comando /opt/eclipse/android-sdk-linux/tools/android.
E dopo tutta 'sta faticaccia, finalmente si puo' iniziare a codare qualcosa!