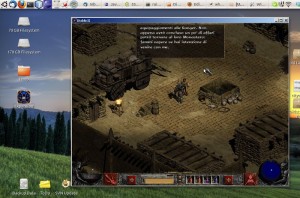 In attesa del terzo capitolo della saga, con i miei amici ci stiamo divertendo, di tanto in tanto, a fare qualche partita con Diablo II Lord of Destruction. Creato nell'ormai lontano 2001, oggi anche il piu' banale dei netbook puo' farlo girare senza problemi, compreso l'host di partite in LAN. Ho comunque voluto installarlo sulla mia Ubuntu Maverick 10.10 a 64 bit, utilizzando wine e qualche configurazione aggiuntiva.
Avendo delle immagini dei cd di installazione, ho installato CDemu prendendolo dall'apposito PPA:
sudo add-apt-repository ppa:cdemu/ppa
sudo apt-get install gcdemu
Ho riavviato il pc e ho aggiunto nella barra di Gnome il widget per CDemu, un piccola icona che mi permette agevolmente di montare /smontare immagini di dischi senza ricorrere alla riga di comando.
Avevo gia' installato wine con tutte le configurazioni necessarie (drives, alcune librerie caricate con winetricks ecc), quindi mi e' bastato "fare doppio click sul Setup.exe" una volta montata l'immagine del primo disco e ripetere il processo con quello dell'espansione e la patch 1.13c. Ho installato tutto in C:\Program Files\Diablo II
Il gioco funziona ad una risoluzione di 640×480 oppure 800×600, quindi se si fara' girare in fullscreen su molti dei computer odierni, che non hanno piu' un monitor con un rapporto 4:3, questo risultera' schiacciato e brutto da vedere, oltre ad avere un grosso problema di freeze totale quando si passa ad un'altra finestra e si ritorna poi a quella del gioco. Per risolverli entrambi, ho lanciato wineconfig e ho configurato delle impostazioni particolari per eseguire Diablo 2:
Tab Applications – Add Application – navigare fino a seleziona Game.exe nella cartella di installazione del gioco.
Windows version: Windows XP
Tab Graphics – deselezionare Allow the window manager to control the windows, deselezionare Emulate a virtual desktop
Infine, per lanciare il gioco, ho usato questa riga di comando (fondamentale il parametro -w per il windowed mode):
wine /opt/wine/drive_c/Program\ Files/Diablo\ II/Game.exe -w
che ho inserito come icona nel menu' Game di Gnome.
Non ho provato BattleNet, ma il gioco funziona senza problemi anche in modalita' multiplayer.
Un'altra strada e' quella di installare Diablo sotto Windows e poi copiare la cartella "C:\Program Files\Diablo II" nel proprio drive wine e lanciarlo da li, previa questa modifica al registry.
Di seguito alcune giude che ho trovato utili, anche se non ho avuto gli stessi problemi:
Diablo under wine in windowed mode
[HOWTO] Diablo 2 + LoD – UPDATED
La pagina su WineHQ con tanti consigli utili nelle varie guide di installazione