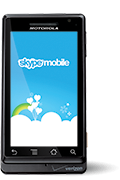 Skype e Android. Sembra impossibile, ma all'oggi non esiste un client Skype per questa piattaforma. Nonostante ci siano quelli ufficiali per iPhone, Symbian e Windows Mobile, il sistema operativo made-in-Google sembra proprio essere stato dimenticato. Fino a poco tempo fa, se ci si accontentava di chattare e chiamare solo i propri contatti (quindi niente SkypeOut), si poteva usare l'ottimo Fring. Ma poi Skype ha deciso che questa cosa non le garbava piu', evitando di proporre soluzioni alternative.
Unica eccezione per alcuni telefoni dell'operatore Verizon, in cui c'e' preinstallato il client Skype Mobile, ma con un funzionamento ben diverso rispetto a quello a cui siamo abituati. Direttamente dal forum ufficiale:
"There IS a Skype app for Android but it is strictly available to select Verizon Wireless phones and only on Verizon service and only through Verizon's voice connection, not data. It won't even run if you aren't on Verizon's network should you manage to get the app installed anyway."
Quindi niente chiamate col wi-fi, niente chiamate su connessione 3G, ma solo attraverso una strana connessione supportata da Verizon e Hutchinson '3' in alcuni paesi europei. Ammettendo di riuscire ad avere il pacchetto di installazione, risulta comunque inutilizzabile fuori da questi vincoli!
Inutile dire che nei forum gli utenti Android sono molto piu' che amareggiati, e anche io personalmente non riesco a trovare una motivazione plausibile per una tale mancanza. Ormai sono due anni che Android e' in giro, la sua diffusione cresce sempre di piu', cosa c'e' che mi sfugge? Una soluzione intermedia, comunque, esiste e si chiama Skype Lite per Android.
Sviluppato dalla stessa Skype, l'ultima versione disponibile e' la 1.0.0.5, ma sembra che non ci siano piu' piani per futuri rilasci. L'ho installato sul mio Nexus One e per chattare con i miei contatti funziona bene, ma non c'e' possibilita' di fare o ricevere chiamate, sia Skype-to-Skype, sia SkypeOut.
Potete trovare l'apk da installare manualmente nel vostro dispositivo su Freeware Lovers, mentre non sono riuscito a trovare niente nell'Android Market ufficiale. Sempre piu' incredibile.